The Most Expensive European Capital to Own a Car
We've all been there, complaining about the cost of petrol and how much parking is setting you back. But do we really have it so bad with car-related costs in the UK?
We decided to find out how we compare to our European neighbours and conducted a study to find out which capital city is the most expensive place to own a car.
Copenhagen is the most expensive European capital to own a car with London a close second
Denmark's capital is the priciest place for motorists, coming out as the most expensive based on our index of 43 cities. London isn't too far behind, living up to its reputation for being a costly capital in the number two spot.
Copenhagen has one of the priciest EV charging costs of any European capital, with a full charge setting you back £14.58, that's second only to Berlin (£15.90) out of the 43 cities in the study. It also sits in the top 10 most expensive for a litre of fuel at an average of £1.49 per litre meaning to fill an average tank you'd be spending close to £82.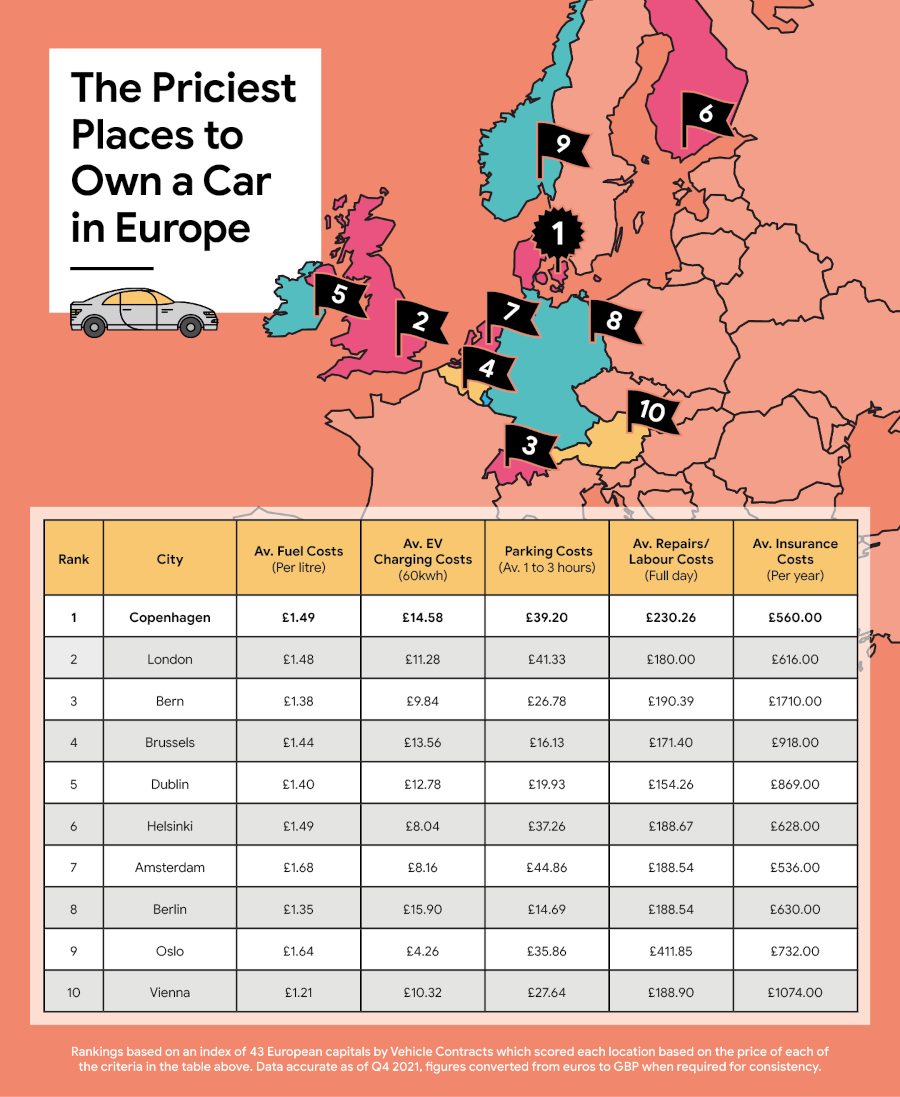 In second place as the runner up in Europe's priciest capitals, London's motorists are also at the mercy of petrol prices with a full tank coming it at around £81. They also have to put up with the second-highest parking charges after Amsterdam (£45) with it costing £41 for an average stay.
Also making the most expensive list were more entries from the Nordics, known for their higher costs of living (we can also add costs of car ownership to that now!) as well as popular city break destinations Amsterdam and Berlin.
If you're planning to relocate to one of these cities, make sure to factor in a decent budget for your motor.

Kiev is the least expensive European capital for motorists overall followed by Skopje
At the other end of the expense scale sits Kiev, capital of Ukraine, which is much more affordable for motorists - especially when it comes to fuel and EV charging outgoings. Our index scored Skopje, North Macedonia's capital, as the second cheapest with a good Eastern European showing throughout this top 10.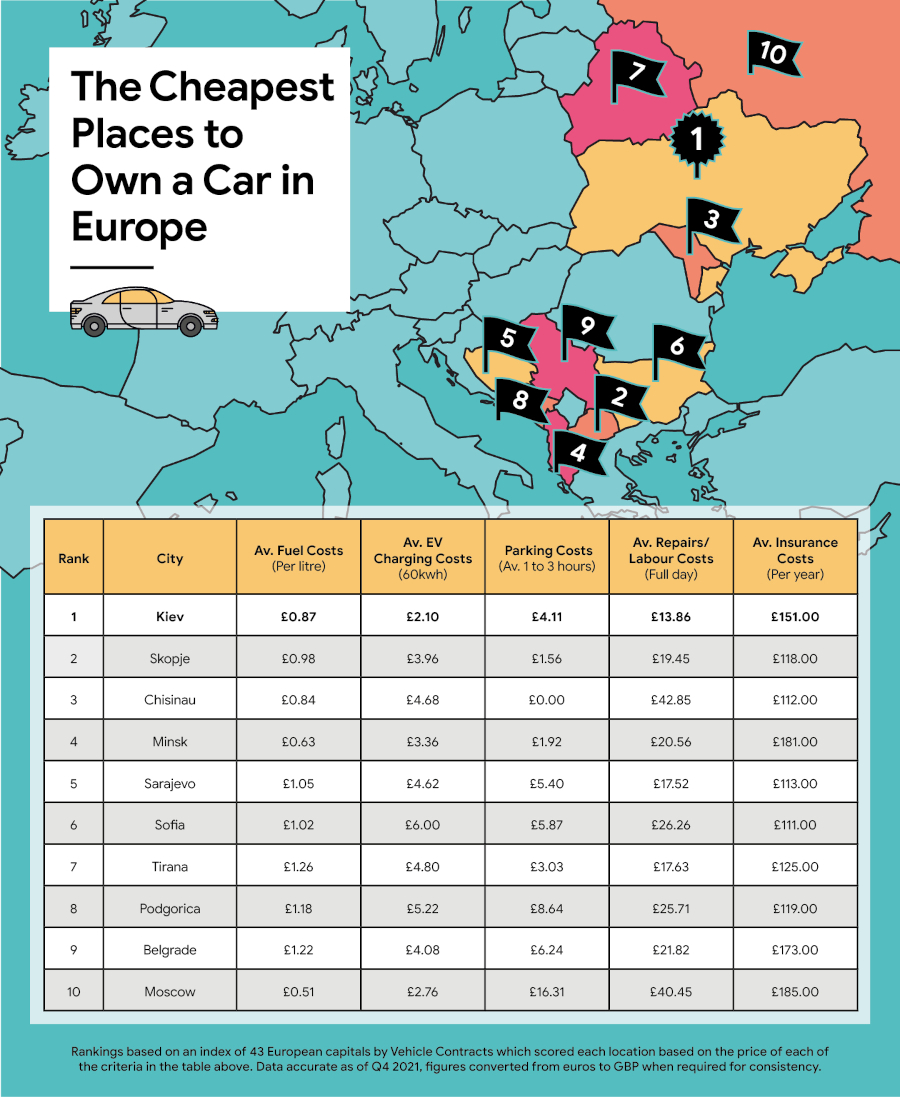 Stockholm takes the top spot for expensive fuel
Sweden's capital is the priciest at the pump with fuel costs (averaged across diesel and petrol) coming to £1.59 per litre. Compare that to the most reasonable in the study, Moscow, where you're looking at an average of 51p per litre and there's quite the difference.
The next highest priced places for fuel include Oslo (£1.57p/l), Amsterdam (£1.53p/l) followed by Copenhagen and Helsinki (£1.49p/l).
Going electric? Consider a move to Kiev for the most reasonable EV charging prices
With electric vehicle ownership on the rise, people are starting to look at how much can be saved on charging a car versus filling it up with traditional fuels. In Kiev, you're looking at a full charge for an eye-opening £2.10.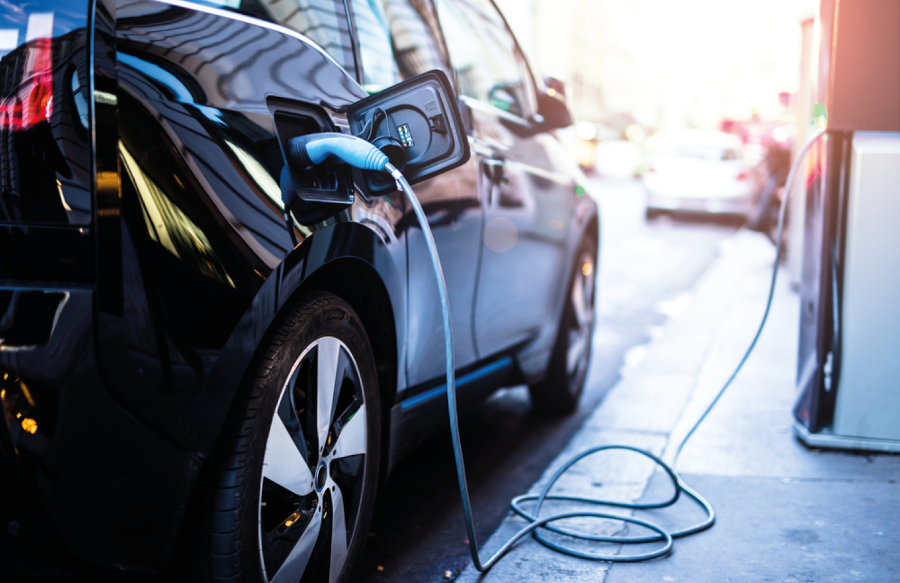 Berlin is where you'll find the highest priced EV power-up with it costing £15.00 for the same amount of juice you're getting over £10 cheaper in Ukraine's capital.
Amsterdam has the highest parking fees on average
While you'll likely see more bicycles than cars when wandering through the canalled streets of the Netherlands' capital, that doesn't mean there aren't people out there looking to get parked.
Unfortunately for them, they'll be experiencing the highest priced parking spots Europe has to offer with an average stop between 1 and 3 hours costing a shocking £44.86. If ever there was a reason to consider using the Dam's plentiful trams, this would be up there.
For more insights into the automotive sector and studies covering a range of motoring topics, make sure to keep an eye on the Vehicle Contracts blog. While you're here, why not check out our latest leasing deals.
Methodology
Vehicle Contracts looked at a range of factors…
Fuel Costs
EV Charging Costs
Parking Costs
Repair/Labour Costs
Insurance Costs
...to uncover which European capital city is the most expensive to own a car. From the data we collected, we created an index of 43 cities which was used to rank the cities from most to least expensive considering all the factors above. The visualised results of the top and bottom 10 cities have been taken from the full index and presented separately for clarity.