Go into a city or large town anywhere in the world and you'll hear the steady hum of traffic. Engines roaring, horns beeping and brakes screeching. But have you ever thought about what this could be doing to you?
Key points:
We found 1 in 5 people have their health affected by noise pollution
EVs could drop noise pollution by nearly 40%
London has the highest levels of daily and nightly noise pollution from traffic
Telford and Milton Keynes have the lowest rates of noise pollution
1 in 5 people could have their body and mind damaged by noise pollution
We found from looking into Defra's data that noise pollution from traffic affects over 11.5 million people in England - that's a huge 20% of the country's total population. Long term exposure to noise pollution can have some pretty damaging effects on your mind and your body that most people don't realise.
Thankfully, the switch to electric vehicles we're currently going through will not only help to improve our air quality but could also help to tackle the lesser-known issue of noise pollution.
Over 1.1 million Londoners live with high daily noise pollution from traffic
Vehicle Contracts looked at 65 urban areas throughout England to find the worst areas for noise pollution.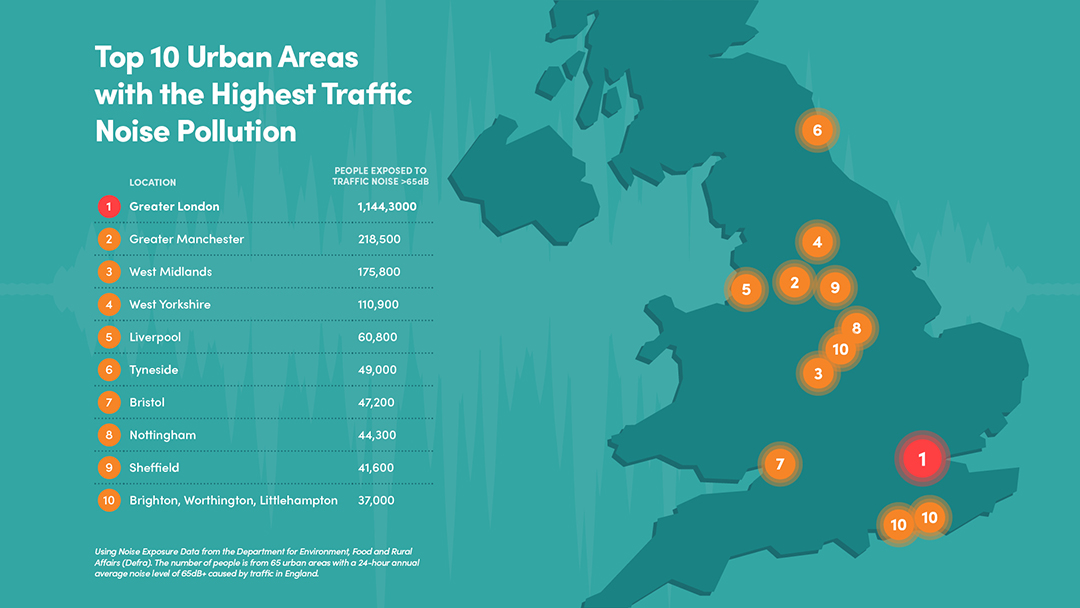 You won't be surprised to hear, London leads daily noise pollution from traffic in England with over 1.1 million people being exposed to levels 65dB and up. That's over 1 in 10 people from the city.
If you look at traffic noise over 55dB, the lowest recorded levels by Defra, the number of people jumps to 2.6 million people, nearly 30% of the population.

Greater Manchester has the second-highest levels of noise pollution from traffic at 218,500 people - 7.78% of the area's population. Closing out the top three is the West Midlands, home to cities like Birmingham and Coventry, affecting 175,800 people daily. West Yorkshire then follows with 110,900 thanks to its large cities like Leeds and Bradford.

After these areas, the number of people affected drops significantly with Liverpool up next. They have 60,800 people impacted, significantly less than the areas above them on the leaderboard.

Telford and Milton Keynes have the lowest level of traffic noise pollution in England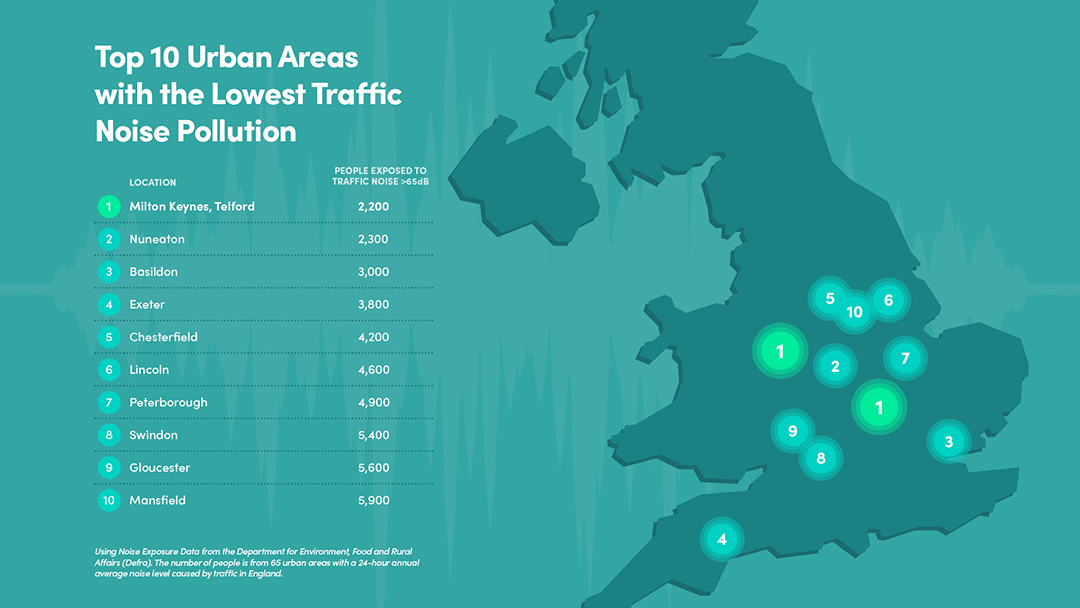 Looking for a place in England with some peace and quiet? Milton Keynes and Telford urban areas have the lowest daily noise pollution levels from traffic at just 2,200 people in each region. For Milton Keynes, that's less than 1% of the total population and just 1.5 % in Telford.
Nuneaton is close behind the leaders with only 2,300 people affected, followed by Basildon/North Benfleet at 3,000.

Surprisingly, several cities in the top ten least affected by traffic pollution - Exeter, Lincoln, Peterborough and Gloucester- are all on the list suggesting that not all cities are the worst affected areas.

1.8 million people in London have nighttime noise pollution
For exposure during the night, we looked at traffic noise over 50dB. Lower noise levels cause more issues at night due to the link to sleep disturbance - we'll go into this in more detail below.
Traffic noise at night generally follows in the footsteps of the daytime noise with only a few exceptions.
The number of people is much higher at this lower noise level with 1.8 million in London affected - that's a 63% increase in the number of people. Greater Manchester also went up to 592,000 from 218,500 showing an increase of 170.9%.
The only changes to the top ten worst-affected areas saw Bristol and Nottingham ahead of Tyneside. Also, the Portsmouth urban area replaced Brighton/Worthing/Littlehampton in the number ten spot, falling to position 18.
How quiet are EVs?
Electric vehicles are quiet. So quiet, it's becoming mandatory in many areas around the world that they produce a sound to alert pedestrians to them.
In the EU, this is being introduced in July 2021. EVs and hybrids must make a noise above 56dB when a vehicle is 12mph and under using an acoustic vehicle alert system (AVAS).
EVs are much quieter compared to petrol and diesel as they don't have a combustion engine. This means the only sound they generate is from the tyres on the road and the wind resistance.

EVs could drop noise pollution by nearly 40%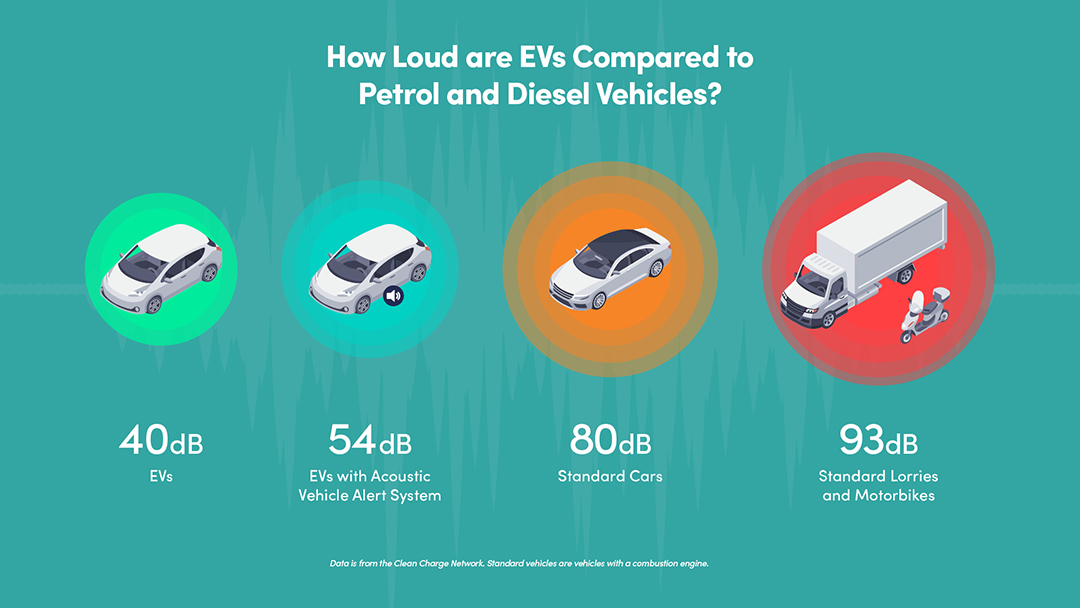 An EV without an AVAS is around 40dB at a low speed but even with one is only 54dB. When compared to the typical noise of a petrol or diesel car at around 80dB, a 38.8% reduction in noise is to be expected.
When compared to a truck or motorbike at around 93dB, there's a 53% reduction in sound levels. This suggests some dramatic improvements following a move to EVs.
With the aim to be net-zero in the UK by 2050, we should see that nearly all vehicles on the roads are electric by this date at the latest. However, with the ban on new petrol and diesel models in 2030, we should see a dramatic increase even sooner.
How does noise pollution affect your health?
According to the World Health Organisation, noise is the second most harmful environmental factor to your health after air pollution. The leading contributor to noise pollution in the UK is traffic.
Long-term exposure to noise pollution over 55dB can impact your health in many unexpected ways. These health issues include:
Hypertension
Increased stress levels
Increased blood pressure
Hearing loss
Heart disease
Stroke
Child reading impairment
Exposure to noise pollution over 40dB at night can also be hugely detrimental to health. Sleep disturbance can exacerbate the above issues whilst also causing other issues like weight gain, diabetes and types of cancer.
We spoke to Pamela Barbato from Action Net Zero who gave us her insight into noise pollution and EVs:
"Research shows that the link between noise pollution levels and our emotions is clear. Neurologically we are likely to become more stressed or annoyed if the noises are beyond our own control like vehicle noise in congested urban areas where people live and work. If our personal space is compromised, for a prolonged period, it can affect our mental health."
"Clean Air Zones will not only help with air pollution but also noise pollution too by providing incentives to transition to EVs, whose noise levels are less than half of petrol and diesel when driven below 30 mph. EVs can also provide a more tranquil environment to travel in, especially when navigating the rush hour - we all know how stressful some car journeys can be!"
Methodology
Noise Exposure Data from the Department for Environment, Food and Rural Affairs (Defra) - updated in 2019. The number of people is from urban areas with a 24-hour annual average noise level caused by traffic - agglomerations are large urban areas with a population greater than 100,000 and at least 500 people per square km and/or along major roads - areas outside agglomerations do not meet these specifications. 11.5 million people are the number of people with daily traffic noise above 55dB.