Luxury 4x4s or SUVs as they are more commonly referred to provide a specific purpose that sets these sets of wheels in a league of their own. So much so, that we've decided to count down the best luxury SUVs available to lease on the market today.
2020 has been rather generous, blessing us with new additions to everybody's favourite guilty pleasures. While Land Rover unsurprisingly makes up a portion of our list, other brands have shown they can do their job just as well or better.
Join us as we list off the best luxury 4x4s available to lease in 2020, in no particular order.
Luxury SUV Buying Guide
Luxury SUV covers a wide range of vehicles, from luxury small SUV to mid-size and large luxury SUVs it's important to know exactly what you're looking for. There are so many 4x4s available that it can often be difficult to know where to start, this is where we come in.
If you're already aware of the illustrious SUV market and just want to get into the nitty-gritty of which car you should buy, you can skip forward to our countdown of 'Best Luxury SUVs 2020'.
What is an SUV or 4x4?
If you're on the search for a luxury 4x4, chances are you know what an SUV is. But for those who have heard the hype and want to know more, 'SUV' stands for 'sporty utility vehicle' and is accompanied by a variety of shapes, styles and functionality.
As the years have progressed the term SUV has been tagged on more and more vehicles. This doesn't mean that 4x4s are lacking if anything they've developed drastically to encompass a wide range of purposes.
Initially 4x4s once just described a car that was a little more than a truck with extended cabins, now the term describes pretty much anything that is elevated above that of a normal vehicle and has an extended roofline.
If it has either of those characteristics, chances are you've got an SUV on your hands.
Small Luxury SUVs
Small luxury SUVs, or as they're also known 'compact SUVs' and as you've probably already guessed they are essentially just smaller than the average SUV.
Manufacturers eventually realised that 4x4s can do their jobs just as well in a smaller environment, opening up the opportunity for less expensive, often more fuel-efficient models. They also make for easier city driving and parking due to their more compact shape.
Vehicles that are blessed with the title of 'small luxury SUV' have raised ride height, a more prominent and commanding exterior design, as well as lower running costs. Making for a great car leasing option for those on a smaller budget.
Large Luxury SUVs
Large luxury SUVs are basically what it says on the tin, a luxury SUV that has more space and greater off-road presence. They are perfect for large families due to their large cabin space, often having either five or even seven seats.
These off-road beauties are the embodiment of practicality and comfort, putting convenience and space at the forefront of design. Providing a roomy interior, towing capabilities, on- and off-road performance, and an unbeatable outdoor presence it's difficult to compete on space or quality.
Best Luxury SUVs 2020
In a market that continues to thrive year on year, building on the already exceptional performance they deliver its difficult to pit contenders head to head.
However, (in no particular order) we have explored the best luxury SUVs available to lease in 2020, so you don't have to.
Jaguar F-Pace
The Jaguar F-Pace firmly plants itself on our best luxury 4x4 list due to its unmistakable 'Jaguar' qualities, thrilling performance, quality and handling. There's something about the Jaguar F-Pace that exudes confidence and trust that is hard to deny, so there's no wonder that it makes the cut for the best luxury SUV countdown.
Alongside the F-Pace, Jaguar has succeeded in crafting well-performing luxury 4x4s in the form of the smaller E-Pace and the all-electric I-Pace making for great contenders in their own rights.
However, the Jaguar F-Pace edged over the other two in the category of luxury SUV due to its undeniable presence in the market. With a class-leading boot capacity of 650 litres, a range of exquisite engine choices, versatile rear seating and innovative technology, the F-Pace makes for a great leasing option.
With an advanced Ingenium engine available in 2-litre all the way to 5-litre supercharged V8 (SVR) delivering a max bhp of 550, partnered with an elegant lightweight aluminium body the F-Pace provides excellent power and efficiency.
The F-Pace was the very first SUV built by Jaguar and has been awarded numerous awards in its honour, "2017 World Car of the Year" and "World Car Design of the Year Awards".
Fitted with the ZF 8HP eight-speed automatic transmission as on the Jaguar XE, never has a family car been so fun. If you're looking for a car that commands the road, is equipped with enough space for a fleet, and is perfectly designed for comfort and class, check out our Jaguar F-Pace leasing deals.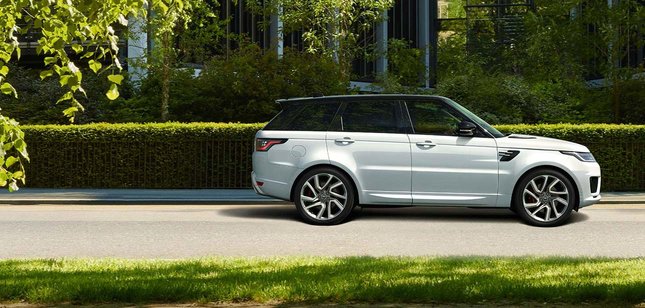 Range Rover Sport
Range Rover has every business being on a list for luxury SUVs, so it's no surprise that the Range Rover Sport is making an appearance. A perfect blend of design, versatility and performance, making a force to be reckoned with in the SUV market.
The Range Rover Sport delivers on the success that Land Rover is known for, straying away from their traditional offering slightly with a sportier design, and more powerful and burlier stance.
The Range Rover Sport lives up the name luxury SUV, making for one of the most notable 4x4s in the market that also embodies the 'luxury' element of the offering. While the Sport has more spacious siblings, it is able to deliver on a handful of other elements very well. From its off-road ability, on-road handling to its luxuriously designed cabin and elaborate infotainment systems it makes for a great leasing option for drivers alike.
What sets the Range Rover apart from the rest of its competitors is its choice of hybrid plugin engines, helping it deliver a far better fuel economy than most of the cars on this list. Even when looking at the petrol plugin options, the 2.0 P400e Autobiography Dynamic 5dr Auto provides excellent torque and efficiency reaching 0-62mph in an impressive 6.7 seconds.
While the Range Rover Sport may be slightly more expensive than some of the mentions on this list, by investing in our Range Rover Sport car leasing deals you're able to spread the cost over the duration of your contract.

Mercedes GLE
The Mercedes GLE offers luxury interior, spacious seating, sitting seven (a feat matched only by the Volvo XC90 and Audi Q7 on our list), and innovative technology. Competing with numerous well-known faces in the luxury 4x4 market, its blend of design and comfort is what sets it apart.
Available in a host of engines, from petrol and diesel to plugin, the Mercedes GLE offers a mixture of both performance-driven and economical engines that are far from disappointing.
While any engine you choose will be a good fit, the GLE 300d 4Matic AMG Line 5dr 9G-Tronic offers the lowest CO2 emissions (bar the plugin options) with 198 g/km fitted with a 9-speed automatic transmission the GLE can reach a top speed of 140mph.
The GLE is fitted with state-of-the-art connective technology that is sure to impress. For starters, you can say the words "Hey Mercedes" to summon the voice assistant that's able to fulfil your needs seamlessly.
For those looking for convenience and elegance, the GLE offers an unparalleled experience - equipped with wireless charging systems, MBUX multimedia system, Keyless-Go starting function, hard-disk navigation and a choice of driving modes (ECO, Comfort, Sport, Individual).
When purchased with the Off-Road Pack, the GLE is able to deliver off-road performance as well as lower transmissions costs. If you're looking for a luxury SUV that's sure to command the road and the eyes of passing people, check out our Mercedes GLE car leasing deals.

Volvo XC90
Alongside the Mercedes GLE, the Volvo XC90 is equipped with a spacious cabin seating up to seven people easily. First developed in 2002, is now in its second generation introduced in 2014, available to the public in 2015 the XC90 underwent a drastic transformation that now sets itself as one of the leading luxury 4x4s in the market.
The second-generation was inevitably longer than its predecessor with a more honed focus on strength, weight reduction, safety and efficiency. All variants in the range are built with a 2-litre engine, in the form of petrol, diesel and hybrid.
The most notable of which is the T8 with exceptional performance, 0-62 mph in 5.8 seconds, a top speed of 112mph, and a break horsepower of 390.
The Volvo XC90 is fitted with a double-wishbone front suspension, electric rear axle drive and Active four C chassis to ensure that your drive is comfortable, smooth and responds as expected.
Designed with commendable craftsmanship, the XC90 sports body-coloured bumpers, chrome additions, black ash inlays and tailored instrument panel and door tops. With a luxury interior rigged out with bright metal luggage threshold, integrated sun curtains in rear doors, front and rear door pocket and front cup holder illumination, and heated steering wheel.
Packed with a host of helpful storage solutions, in the form of a cargo divider with grocery bag holder, driver's side lower dashboard storage compartment, underfloor cargo storage, the XC90 excels in maximising space and comfort.
If you're looking for a luxury 4x4 that has enough space for a large family, enough tech to keep you connected and beautiful design inside and out, look at our Volvo XC90 lease deals for more information.

BMW X7
The BMW X7 just overtook the X5 slightly on this list due to its larger size (only slightly) with the X7 spanning 202.8 inches, and the X5 193.8 inches. Sharing numerous qualities and only differing slightly in size across the rear, profile and wheel arches the X7 seizes the spot by a hair.
While the X5's third row is verging on the line of cramped, the X7 has more than enough space to stretch out and get comfortable. The X7 is the largest in the line of BMW's luxury SUVs and only works to exceed expectations with performance, handling and boot space.
No matter the model, BMW's cars will always command the road with their striking designs, the X7 is no exception with its design only accented by the classic BMW lines. Its shape makes for a powerful silhouette, backed up by strong 21-inch alloy wheels.
Available in a choice of diverse variants, Standard, M Sport, M50 d, M50i and MHT it's hard to not be impressed by the X7s dynamic design and performance.
The xDrive M50i 5dr Step Auto [Ultimate Pack] by far providing the best performance reaching 0-62mph in an astounding 4.7 seconds, with a top speed of 155mph.
A testament to the 'luxury SUV' class, the X7 is able to tackle multiple terrains with ease, due to its iconic precision handling and adaptive suspension making for a comfortable and smooth ride on any surface. Only accentuated by its choice of drive performance controls in ECO PRO, comfort sport and adaptive mode.
For a smooth ride, precision handling and expertly crafted design check out our BMW X7 lease deals, grab yourself a luxury SUV that balances performance and comfort with ease.

Range Rover Velar
The Range Rover Velar is fully-capable of driving off-road with ease, with a blend of performance, design and intuitive technology. Fitted with torque-on-demand all-wheel-drive equips you with the perfect means of traversing off-road conditions, alongside terrain response which optimises your driving for the conditions of the road.
Land Rover has a history of creating iconic off-road vehicles that are a joy on your eyes and on the road. The Range Rover group is no exception, with the larger and more spacious Sport, down to the smaller, eye-catching Evoque. However, the Velar provides a middle ground between the two succeeding in practicality and performance.
Anything but lacking in performance, the Velar has a BHP of 300, a top speed of 137mph and can reach 0-62 in just slightly over 6 seconds. So, if you're looking for a 4x4 that has room for the whole family, but also drives like a dream, the Velar may be for you.
Under the bonnet, you can find Range Rover's usual four-cylinder Ingenium 2.0-litre diesel engines, available in 180 or 240 outputs. You can also find the 2.5 in petrol offering 250 or 300PS. Whatever engine you decide to choose for this luxury SUV every spec is fitted with the XF eight-speed automatic transmissions, making driving and handling a breeze.
Alongside its impressive stature and performance, the Velar houses an array of technology that will make your jaw drop. Equipped with a 180-degree rearview camera with an active wash system and front and rear parking aids, the Velar offers an air of practicality only expanded upon by its range of communication and infotainment technology.

Audi Q7
Often regarded as the ultimate Audi SUV, the Audi Q7 performs on striking design, space and performance. Equipped with seven seats, the Q7 offers room for the family, friends, luggage, you name it. Audi's luxury 4x4 sports all-wheel drive, a confident silhouette and a host of helpful technology.
Embodying versatility, the Q7 has exceptionally practical cabin space, seven seats, smart storage solutions and much more. A testament to the craftsmanship and dedication of the designers and engineers of this vehicle.
Audi has proven time and time again their attention to detail when crafting their models, with the Audi Q7 being no different. The Q7 presents you with a driving experience that was designed to be relished.
With economy and efficiency at the forefront, the Q7 is fitted with a petrol-hybrid option that deactivates the engine during deceleration to save fuel. This feature is invaluable for those that are looking for a great fuel economy and like to keep running costs low.
If you're not already impressed, the Q7 has snatched quite its share of awards over the years, named "Best of the Best" in the German Design Council's Automotive Brand Contest back in 2015. More recently the 2020 Audi Q7 SUV earned 2020 Wards "10 Best UX" award for the technological and enjoyable, seamless experience provided to users.
Audi drive select, effortless cruise control, Audi smartphone interface, natural voice recognition, MMI navigation, and parking assist are all great features the Audi Q7 comes fitted with as standard. Enjoy the endless, intuitive connective technology the Q7 has up its sleeve.
If you're looking for a luxury 4x4 that seats seven, is fitted with the latest state-of-the-art tech and provides an unbeatable driving experience, the Audi Q7 may be right up your avenue. Browse our range of Audi Q7 lease deals for more information.

Volkswagen Touareg
Volkswagen is known for its quality, design and performance, qualities that are not missed with the Touareg. The VW Touareg was a valued addition to the Volkswagen family, joining the luxury SUV range. Much like other high-quality 4x4's on this list, the Touareg is fitted with the leading technology to make your life easier and more convenient.
The Touareg is straightforward when it comes to what is under the bonnet, with a 3.0 Litre V6 engine as standard with either TDI or TSI, accompanied by 4Motion which is Volkswagen's way of saying four-wheel drive.
The fastest model available is the 3.0 V6 TSI 4Motion Black Edition 5dr Tip Auto offering a BHP of 340, a top speed of 155mph and 0-62 in just under 6 seconds.
It's obvious that the Touareg has been designed carefully and thoughtfully. From the black decorative trims on the side windows to the high gloss black centre console, contrasted with the solid paint and chrome additions.
The VW Touareg offers exceptional space, with 810 litres of boot space which grows to a whopping 1,800 when the rear seats are up.
Practicality, spaciousness, sophisticated design, browse our range of VW Touareg lease deals for more information.

Mercedes G-Class
The G-Class is one of Daimler's longest-standing vehicles of over 40 years, truly iconic for its unique shape and stature. Originally developed as a military vehicle, the G-Class has seen numerous updates and refinements over the years to make the Mercedes G-Class we all know and love today.
It's most noticeable feature is its exterior design, its boxy shape and body-on-frame construction, shaping a personality and interest for this car that has only grown with each update.
The G-Class is also one of the very few cars to utilise locking differentials to ensure both wheels turn in unison, providing significantly higher traction advantage over automatic lockers.
For power-enthusiasts, the G-Class offers a wide array of strong engine choices to take your fancy, on top of excellent off-road capability. This strong luxury SUV is anything but lacking in performance, design and practicality.
The G63 5dr 9G-Tronic offers a 4-litre V8 engine packed with a 9-speed automatic gearbox and multi-point fuel injection. Notably, one of the best choices of engines if you're looking for a little extra power with a max speed of 137mph, 0-62 in 4.5 seconds and a BHP of 585.
Equipped with everything you would be looking for in a luxury 4x4, alongside its boxy stature its standout quality is its practicality. With more than adequate boot space, ambient mood lighting, and smart storage solutions the G-Class provides class, comfort and space with ease.
You come for the boxy alternative design of the G-Class and stay for the comfort, practicality and superior performance. If you're interested in learning more about this fascinating luxury SUV, you can browse the Mercedes G-Class leases we have available.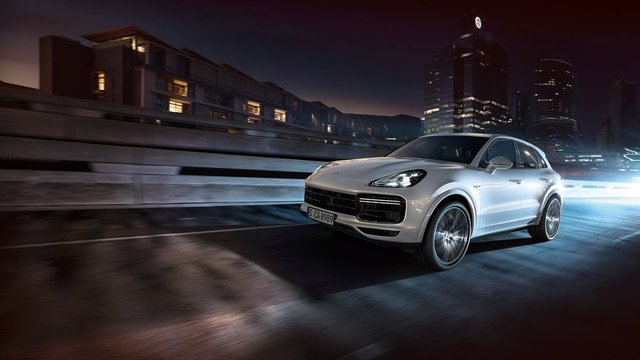 Porsche Cayenne
Sporting everything you'd expect in an iconic luxury SUV, the Porsche Cayenne only works to exceed your expectations. One of the first things you may notice about the Cayenne is most likely its unique shape and design and smooth lines, however, it is one of the few luxury 4x4s that is available in electric.
The Cayenne Coupe is Porsche's third SUV, embodying the original, preserving what makes it special while adding a touch of sportiness. Interestingly the Cayenne is Porsche's first off-road capable vehicle (not including tractors) and was the first Porsche with four doors.
The Cayenne does a great job of providing everything you would need in an SUV and easily competes with other high-end options available such as the BMW X6, Mercedes GLE SUV and Range Rover Velar (already mentioned on this list).
If you're looking for a more economical option that only provides a little less speed, the E-Hybrid Turbo S 5dr Tiptronic S could be what you're looking for. Alternatively, if you're looking for raw power there are the V6 or twin-turbo V8 which will give you the extra kick needed.
With hybrid technology, the car utilises the electric battery until it runs out and then switches to the ordinary petrol engine soon after. While this doesn't sound like a dramatic difference, it helps to keep running costs and emissions lower, while preserving the integrity of your fuel engine for longer.
The Porsche Cayenne provides one of the fastest options on this list, perfect for thrillseekers that are looking for a middle-ground between performance and practicality. Browse our range of Porsche Cayenne Coupe lease deals to find out more.
Luxury SUV Car Leasing with Vehicle Contracts
Whether you're looking for a luxury 4x4 or something a little different, we're confident we have the right deal for you. Browse our range of special offers for car leasing available, or alternatively, give us a call on 01675 466433 for a no-obligation chat.